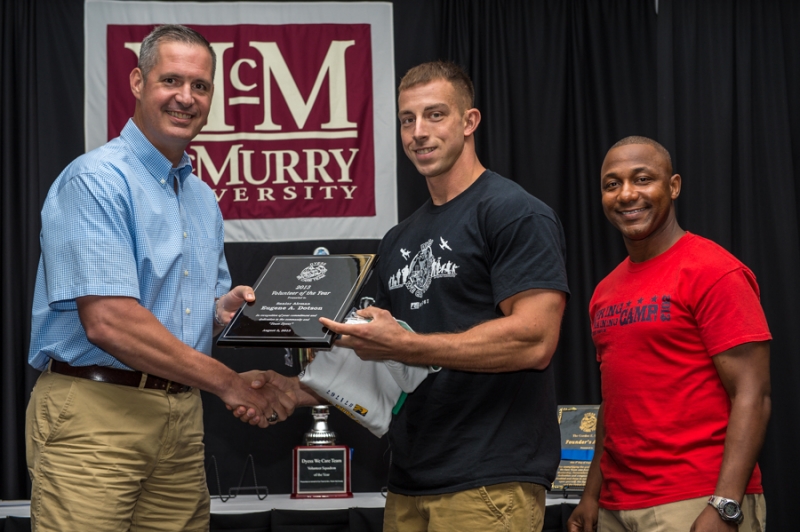 SrA Eugene Dotson (center above) was named this year's Dyess We Care Team volunteer of the year at the 13th annual WCT awards banquet. This years event was sponsored by Star Family of Dealerships and the Communities of Abilene Federal Credit Union. This year's master of ceremony was SrA Stephanie Grenon, last years WCT volunteer of the year. The awards were presented to each on this years winners by the 7th Bomb Wing Vice Commander Col Steven Beasley (above left) and Command Chief CMSgt Kenneth Lindsey (above right).  The top ten volunteers of the year are determined by the total number of volunteer hours for the year along with the number of projects and fundraisers as well as the consistency of their volunteer service each quarter. This year, like last year, was very close among the top volunteers.
This year also saw another Superior Community Service award winner. This award is presented to a volunteer who has accumulated more than 250 volunteer service hours with the WCT. This year's recipient was SrA Kyle Glotzbach, pictured above.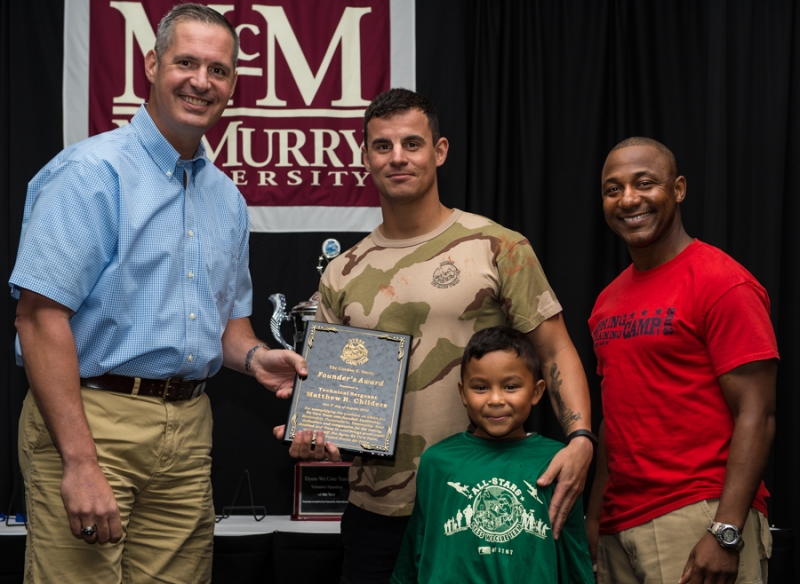 This year's Founder Award recipient is TSgt Matthew Childers. The Founder's Award recipient is select by the WCT founder, retired MSgt Gordon Storey, and is awarded to the volunteer that exemplifies leadership, mentorship, camaraderie, and community, all principals on which the Dyess We Care Team was founded.
For the first time in the 13 year history of the Dyess We Care Team the award for the Squadron of the Year was presented. The first squadron to receive this award is the 7th Civil Engineering Squadron (photo above). The trophy is a traveling trophy and will be awarded to the outstanding squadron each year.
The Star Supporter of the year was awarded to Keep Movin' Fitness. Receiving the award for Keep Movin' is Mica Jones.
Below are the following top ten volunteers recognized at this year's awards ceremony.

#2: SrA Jacob Hicks

#3: A1C Steven Vermillion

#4: SrA Kyle Glotzbach

#5: SSgt Michael Miller

#6: SSgt Brett Williams

#7: SrA John Tomsich

#8: A1C Kevin Ellis

#9: A1C Matthew Lees

#10: A1C Loretta Caplinger